Restore Data after a Cyberattack
Viruses can delete random files, which our undeleting software can save for you. Get our data recovery software, extract all the meaningful information from the disk, and save your valuable files.
Save Data Removed from the Recycle Bin
If you accidentally deleted a file from the recycle bin, our tools will help you restore them. As the deleted file content is still on there, our disk data recovery tool will rescue your documents.
Conduct Content-Aware Analysis
This is a technology that we use to uncover data stored on a deleted, corrupted or formatted disk. This method allows us to dive deeper to give away the file's location and recover it.
Recover Browser History
Our commercial data restore software can recover not only browser history but also bookmarks, addresses, logins and passwords. Our tool will show all your browser activities.
Rescue All File Types
Our advanced full data recovery solution can recover any type of file from all sorts of storage devices. You can restore all your files from anywhere even if the device is broken or corrupted.
Instant Analysis
Our services involve a fast scanning feature that locates deleted files in a matter of seconds and displays results in real-time. Note that this feature is only valid for PCs that are healthy.
#1 Select
Open our tool and select the location on your PC where the file was lost.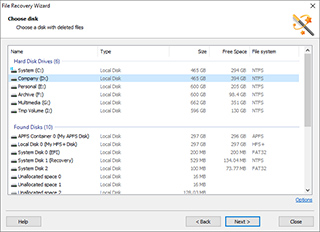 #2 Scan
Scan the chosen location. Note that this process may take some time.
#3 Recover
Take a look at the search results and recover the file you need.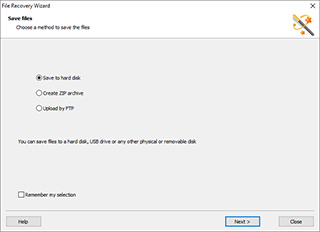 24/7 Customer Support
Any time you experience an issue, contact our customer support for an immediate response.
You can choose your favorite option and send us an online form, email, or give us a call.
Cutting-edge Technologies
We strive for innovative and cutting-edge technologies in our software development process. We offer tools that can handle all kinds of issues with all types of storage media.
Years-Long Experience
Having been on the market for almost 20 years, we have accumulated a lot of experience that helps us find solutions to challenging any data recovery problems.
170 million
of trusted users

Maria Perez
This tool is made for the hardest job. Formatted hard disks, trashed partitions and broken hard disks are the perfect subject for this little tool. It's amazingly easy to use for what it does.

Paul Dinger
Many thanks for this great program! I accidentally deleted my most important folder… and got it back in just minutes. The tool is great even for those not really familiar with this kind of stuff.

Michael Keith
I tried quite a few similar programs. Now I know it for a fact that this one is well worth the money. It was able to find all the files and display the correct file names in just a few minutes.